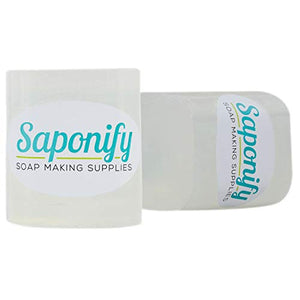 Saponify's Original Clear Soap Base makes a crystal-clear bar of traditional glycerin soap. Perfect for beginners and beloved by experts. 
Formulated to be perfectly clear and easy to use, this professional-grade soap base is great for simple bars as well as multi-layer and embedding projects. 
Our Favorite Scent Pairings: Sky is the limit! Try Lavender for a calming option, or Citrus for a fun, energizing soap bar.
Easy to Color? Yes! 

Vegan: Yes!
Ingredients: 
Ingredients: Saponified Palm Kernel Oil, Palm Oil, Glycerin, Sorbitol, Propylene Glycol, Sucrose, and Purified Water.
Saponify is a proud member of the Roundtable on Sustainable Palm Oil (RSPO). All ingredients are vegetarian and have not been tested on animals. Detergent, SLES and SLS-free. 
Tip: Make fun shapes with one of our white soap bases and embed them in your clear bars!