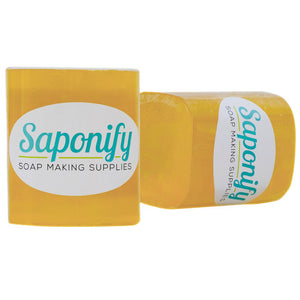 Saponify's Argan Oil Soap Base makes a golden amber-colored bar. Also known as Moroccan oil, Argan oil contains Vitamin E and is a decadent treat for your skin. Amber Oil has been known to promote skin elasticity and is great for aging hands. 
Argan has recently become popular as a hair and cosmetic ingredient, and is very popular in natural beauty products.
Fun Fact: Argan oil is harvested in the deserts of Morocco and is traditionally drizzled over couscous or as a dip for bread.
Our Favorite Scent Pairings: Sky is the limit! Try lavender for a calming option, or citrus for a fun, energizing soap bar
Vegan: Yes!
Ingredients: Saponified Palm Kernel Oil, Palm Oil, Glycerin, Sorbitol, Propylene Glycol, Sucrose, Argan Oil, and Purified Water.
Saponify is a proud member of the Roundtable on Sustainable Palm Oil (RSPO). All ingredients are vegetarian and have not been tested on animals. Detergent, SLES and SLS-free.